Agora Journalism Center aspires to be a bridge-builder and facilitator of conversations and collaborations across different sectors of our region's news and storytelling community, in order to build a media ecosystem more responsive to the public's needs and more inclusive of the public's voices and diversity.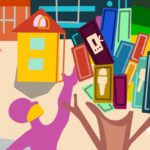 How might we…
Support your ideas and initiatives to strengthen the information and storytelling infrastructure in your community?
Support you as you assess and document the stories and information needs of your community?
Amplify work you are seeing that is creating a more vibrant local information ecosystem?
Facilitate connections with media and other civic organizations who care about local information and civic health?
Do any of these bullets intrigue you or sparks a collaborative idea? If you share our passion for strengthening the civic and information health of our communities, we'd love to get to know you. Please fill out the following questionnaire:
---
Illustration by Latoya Lovely.