The Agora Journalism Center at the School of Journalism and Communication (SOJC) is the University of Oregon's forum for the future of local news and civic health in Oregon and beyond.

The center was formed in 2014 with the foundational belief that the health of democracy and journalism are inextricably linked. Since then, the center has been a critical champion for the idea that professional journalism must become more participatory and collaborative with the public if journalism is to meaningfully improve communities' information health and earn the public's trust in local news media. Since 2014, the center has:
Since its inception, the Agora Journalism Center created and fostered spaces where innovators gather to share frameworks and visions for more community-engaged and community-driven journalism. Our name, "Agora," reflects this notion of a modern-day forum for dialogue and deliberation and an inclusive space for all citizens to participate in civic life.

Then 2020 happened. In addition to the global pandemic and massive protests to right racial injustice, the U.S. presidential election also highlighted an American democracy pushed to a hyper-partisan breaking point. A decades-long erosion of public trust in news media and most other institutions of society has left our country and its people increasingly divided.
It was in that context of crisis that we undertook a strategic re-visioning to assess what we had accomplished and what needed to happen next. Working in partnership with colleagues, collaborators and fellow travelers, we identified this renewed vision for the Agora Journalism Center: To be the forum for the future of local news and civic health in Oregon and beyond.
With that vision in mind, our commitment to engaged journalism broadens to a focus on community-centered journalism: Information and storytelling that centers the voices and experiences of all community members; journalism that intentionally works alongside other civic organizations to improve local civic health; communities rebuilding and strengthening local information sources and storytelling networks to create a new infrastructure of understanding, collaboration, and civic action.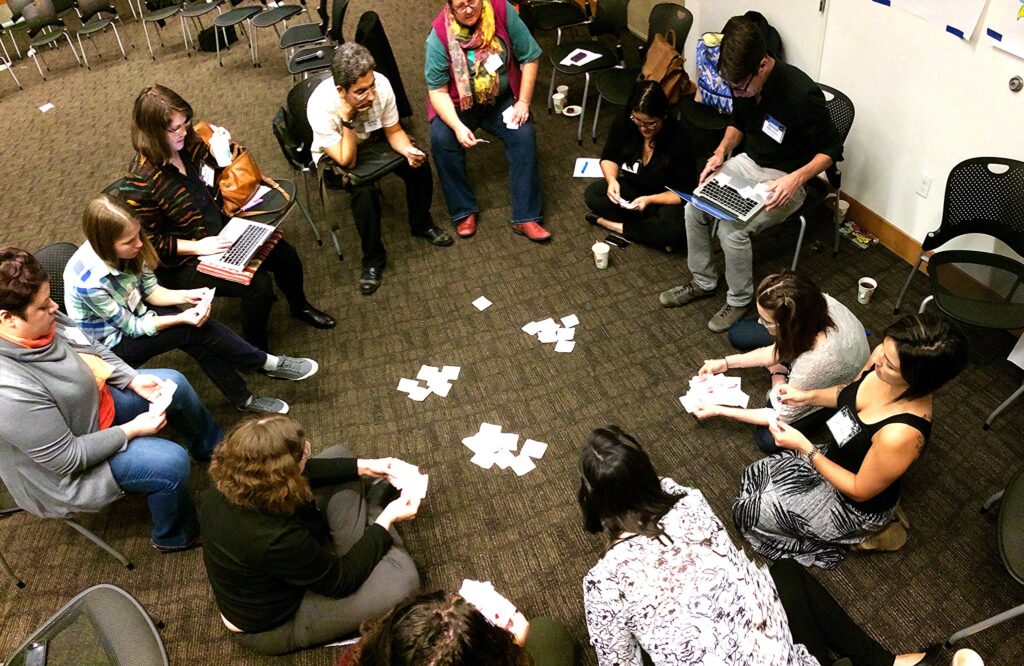 We believe it has never been more important for journalism to be inclusive of all voices and to be centered in community. As we have always believed at the Agora Journalism Center, the future of journalism and the future of democracy are intertwined.
Mission & Vision
At the Agora Journalism Center, we believe that vibrant and inclusive local information ecosystems are critical to civic health–the ability of communities to work together to address shared problems. Agora Journalism Center will be a bridge-builder and facilitator of conversations and collaborations across different sectors of our region's news and storytelling community, in order to build a media ecosystem that includes voices from across many diverse communities and across many types of media. Our renewed vision drives four key activities focused on community-centered journalism:
Building a collaborative, sustained laboratory for improving the local information ecosystem in Portland and Oregon. In an era where, more than ever, single media organizations cannot bring about change on their own, we want to facilitate the understanding of our communities' information needs and collaborate with information providers to fuel successful journalistic innovation.
Creating and sharing research, case studies, tool kits and insights to disseminate across the news industry and throughout the nation. We want to curate and share what's working, based on all we are learning from our national networks and our own local projects.
Pioneering a rigorous, ongoing assessment of the health of information ecosystems in Oregon. We want to document strengths and gaps in our communities' information and communication networks, in order to point toward opportunities to strengthen our region's civic health.
Developing curriculum focused on how media can innovate to regain relevance and purpose through community-centered journalism. We want to lead the way in training the journalists of tomorrow how to create more vibrant local information, storytelling, and understanding across communities. Our curricula for journalism students and journalism professionals will showcase the lessons being learned from all of the activities listed above, and provide a framework for journalists to grapple with practical challenges and ethical considerations of producing journalism that works collaboratively with communities.