Executive Summary
A growing body of research demonstrates the connection between the civic health of communities and their access to quality, trusted, and inclusive local news. Communities that lack robust local news also tend to experience lower rates of civic engagement, higher rates of polarization and corruption, and a diminished sense of community connection.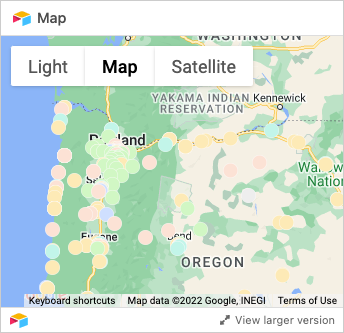 At a critical moment in Oregon's history, this report maps news outlets around the state that are regularly producing original local news and categorizes them by platform and ownership type. We find that, after years of closures and contractions, newspapers are still the most common outlet for local news in Oregon, though public radio, online-only outlets, television stations and magazines also play an important role. In terms of ownership structure, Oregon's newspapers are a mix of privately-owned single holdings, small locally-owned chains, and nonprofits, along with about one-third that are owned by large geographically diffuse chains and publicly-traded corporations.
We also find that Oregonians are unequally served by local news media and that some communities have few places to turn for truly local news. And we find that journalists and civic leaders are deeply worried about the state's ability to grapple with its mounting challenges at a time when the number of news outlets is declining, news audiences are shrinking, and misinformation is on the rise. These findings raise concerns about the health of Oregon's news and information infrastructure.
Despite the challenges, many of Oregon's legacy news outlets are finding ways to adapt, innovate, and grow even in an increasingly tough environment. A number of digital start-ups are filling gaps in news for some communities, and taking on regional issues. Newsrooms are collaborating with one another to share stories and to do more local reporting with limited resources. And journalistic support organizations here in Oregon and beyond are providing tools, resources, and guidance to bolster both legacy and start-up news organizations.
The overall picture, however, is concerning. The underlying infrastructure for producing local news has been weakened by two decades of losses of newsrooms and reporting jobs. And news organizations today, from the smallest all-volunteer hyperlocal websites to the largest legacy newsrooms, often sense they are swimming against the tide of economic, technological, political, and cultural changes that threaten the long-term viability of local news production. Ultimately, larger-scale interventions may be needed to create a stronger civic information infrastructure. We examine innovations and interventions happening around our state and beyond.
The evidence is increasingly clear that the civic health of communities is tied to the fate of local news. This report represents one step toward assessing the state of local news in Oregon and what can be done to strengthen it. Counting and mapping Oregon's local news producers will allow for tracking further contraction or growth over time. And by looking at initiatives underway around the country, Oregon's newsrooms, educators, funders, and policy-makers can consider emerging innovations to build the vitality of Oregon's local news ecosystem.
---
NEXT » Foreword & Acknowledgments